Overview
Product Overview

One of the most amazing home technology products you will ever purchase!
But don't take our word for it……..

"..adds more fun to a home theatre than anything else that comes to mind… as far as audio equipment goes, nothing else will have a greater impact, or add more excitement and realism to a home entertainment system that the Buttkicker Kit"

Augie B
Homeentertainmentreviewer.com

"All the claims made about these things are true. The impact of these devices on a home theatre system is stunning. If you're thinking about getting one, stop thinking and get it. You won't be disaapointed"

Solid Product

"the kit added a sense of realism! It drew me into the scene. I found myself holding onto my armchairs as the pods rushed by blowing up along the course"

Ray A
Audioholics Online A/V Magazine




In more than 9,000 Cinema Seats around the world including...





Hundreds of the Worlds Top Groups rely on the Buttkicker Including...







240V Australia Version
12 Month Australian Warranty
One Buttkicker Wireless Kit is powerful enough to shake a 3 seater couch!
Get ready for the most fun your family has ever had watching movies or playing video games.
The wireless ButtKicker Kit is a "Silent Subwoofer" that turns any home theater into a 4D theater. Feel all the action and special effects – like you're in the movie!
Movie theaters around the world use ButtKicker-brand products to thrill their audiences, now bring the same excitement home with a wireless ButtKicker kit.
ButtKicker-brand products accurately reproduce bass and special effects from the subwoofer channel of the sound track… Silently.
They "shake" your couch or home theater seating precisely in sync with your movie, video game or music.
Enjoy realistic special effects and concert-quality music without disturbing the neighbors or waking the kids.
Compatibility - Works out of the box with your TV, DVD's, Blu Rays, XBOX, PS3 & Home theatre system. Fits under any chair, couch or sofa. Everything you need is included!
Installation – Fast & simple wireless setup for all home theatre setups from basic to custom high end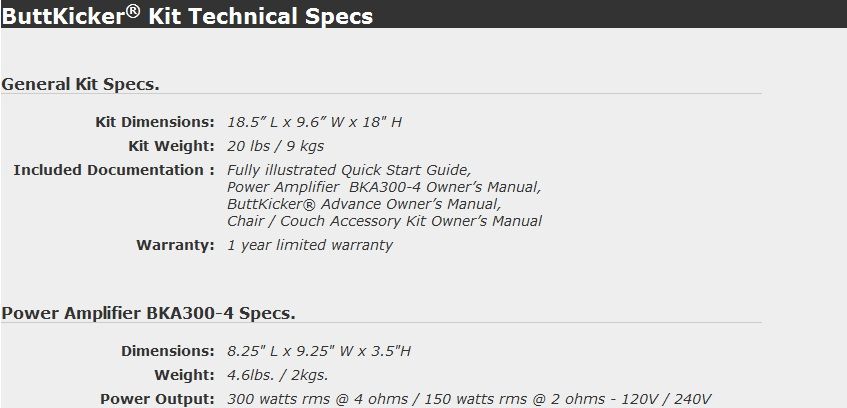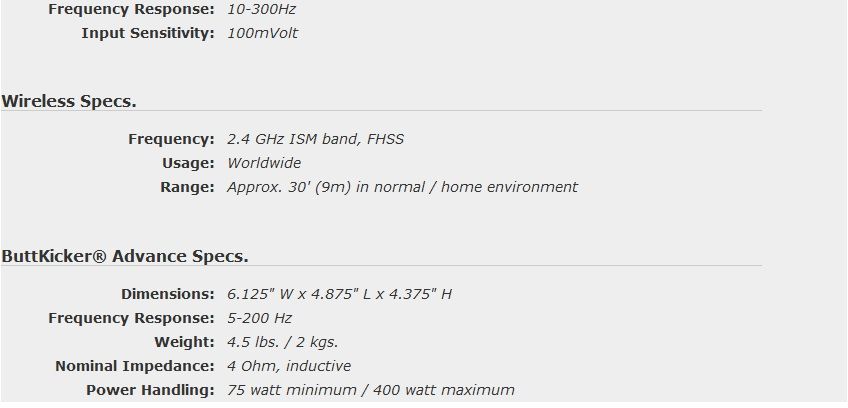 Wireless Kit Review by Dale Valentine

Have this setup with the Gtultimate and love it. Was going to get the Gamer 2 but glad i went for the bigger kit, wicked! (Posted on 3/03/13)

Buttkicker Wireless Kit Review by JonnyK

The Guitammer Company's ButtKicker systems are literally changing the game (or whatever else you throw at it – movies, games, etc.). Do you remember the first time you had the big screen experience in someone's living room? What about your reaction to your first home theater surround sound demonstration? If you now have these items in your own home, you know the disappointment when you have to watch a movie on a modest-sized TV with just the built-in stereo speakers.

So what is the ButtKicker exactly? The company calls it a silent subwoofer that turns any home theater into a 4D theater, allowing viewers to truly feel all the action in their living room for the very first time. ButtKicker-brand products use the subwoofer channel to shake your entire couch precisely in sync with the movie, video game, or music that is being played. Having a ButtKicker hooked up changes everything.

When they say the whole couch, they mean the whole couch! There are no empty promises or exaggerations here. I have a very heavy couch with each end functioning as a recliner. The powerful effects produced by the ButtKicker made it all the way down the leg rest on each end. Just like in real life, when an explosion goes off, you can feel it all the way up and down your body.

Although watching movies and listening to my favorite songs with the ButtKicker was awesome, playing an action-packed game like Call of Duty brought the most excitement. It's a total different experience when you shoot your weapon and actually feel the recoil. When was the last time you were playing a game and your whole body felt the impact after you pulled the trigger? Trust me, it's a total different experience compared to a controller weakly vibrating in your hands.

I decided on the wireless ButtKicker kit because it had everything I needed in the box and promised to be very easy to setup. Although it only takes 30 minutes to setup your ButtKicker system, you won't leave the room for hours after you start getting it out of the box. I had a blast watching movies, listening to all kinds of different songs, and playing various video games throughout the night. Even during the quiet parts, my ButtKicker found a way to bring the entertainment to life in ways I've never experienced before. (Posted on 12/12/12)

Wireless Kit Review by Hayden Gaeta

Wish i knew about these earlier would have bought one years ago. 4D is fantastic it's really a different feeling watching movies with all the vibration and effects. Whole family loves it and there is now fights to sit on the couch that has the Buttkicker so will probably need another one soon! (Posted on 1/12/12)

Wireless Kit Review by Daniel Miles

As good as the reviews. Get one, you got no idea what u're missing (Posted on 4/09/12)

Buttkicker Wireless Kit Review by Chris Tander

I read reviews of people using them for movies as well as games but never thought that i actually would. Initially I purchased the kit just for my simulator but now using it for anything i possibly can music,movies, shoot em up games you name it. It's absolutely brilliant and have recommended it to so many people already. The only negative i can say is that you are going to spend a lot more time playing games with a Buttkicker, love it! Thankyou Pagnian! (Posted on 20/08/12)
At Pagnian Imports we offer Free Shipping Australia Wide on all our products no matter how big your order is or how remote your address is.
At Pagnian Imports all items in stock are sent out within 1 Business Day via tracked and insured Australian Couriers insuring you receive your order as quickly and safely as possible!
Home to Australia's #1 Racing Simulator Cockpits
Next Level Racing, Fanatec and Buttkicker Products
12 month Australian back to base warranty

Origaudio Products
30 day Australian back to base warranty
Home to Australia's #1 Racing Simulator Cockpits