One of the most amazing home technology products you will ever purchase!
But don't take our word for it……..
"..adds more fun to a home theatre than anything else that comes to mind… as far as audio equipment goes, nothing else will have a greater impact, or add more excitement and realism to a home entertainment system that the Buttkicker Kit"
Augie B
Homeentertainmentreviewer.com
"All the claims made about these things are true. The impact of these devices on a home theatre system is stunning. If you're thinking about getting one, stop thinking and get it. You won't be disaapointed"
Solid Product
"the kit added a sense of realism! It drew me into the scene. I found myself holding onto my armchairs as the pods rushed by blowing up along the course"
Ray A
Audioholics Online A/V Magazine
In more than 9,000 Cinema Seats around the world including...

Hundreds of the Worlds Top Groups rely on the Buttkicker Including...


240V Australia Version
12 Month Australian Warranty
One Buttkicker Wireless Kit is powerful enough to shake a 3 seater couch!
Get ready for the most fun your family has ever had watching movies or playing video games.
The wireless ButtKicker Kit is a "Silent Subwoofer" that turns any home theater into a 4D theater. Feel all the action and special effects – like you're in the movie!
Movie theaters around the world use ButtKicker-brand products to thrill their audiences, now bring the same excitement home with a wireless ButtKicker kit.
ButtKicker-brand products accurately reproduce bass and special effects from the subwoofer channel of the sound track… Silently.
They "shake" your couch or home theater seating precisely in sync with your movie, video game or music.
Enjoy realistic special effects and concert-quality music without disturbing the neighbors or waking the kids.
Compatibility - Works out of the box with your TV, DVD's, Blu Rays, XBOX, PS3 & Home theatre system. Fits under any chair, couch or sofa. Everything you need is included!
Installation – Fast & simple wireless setup for all home theatre setups from basic to custom high end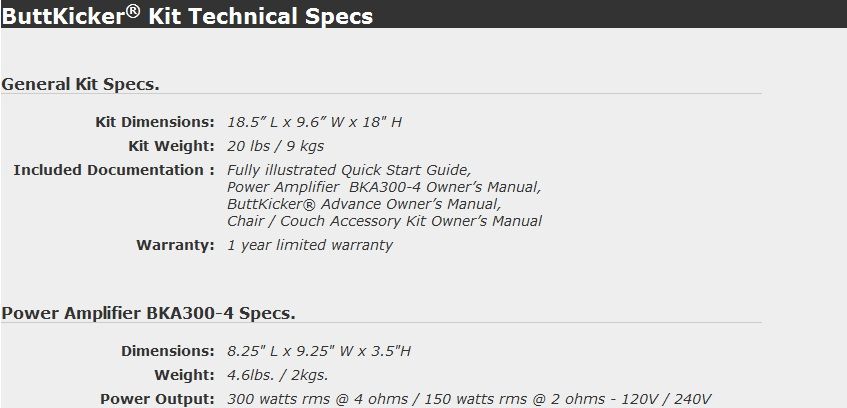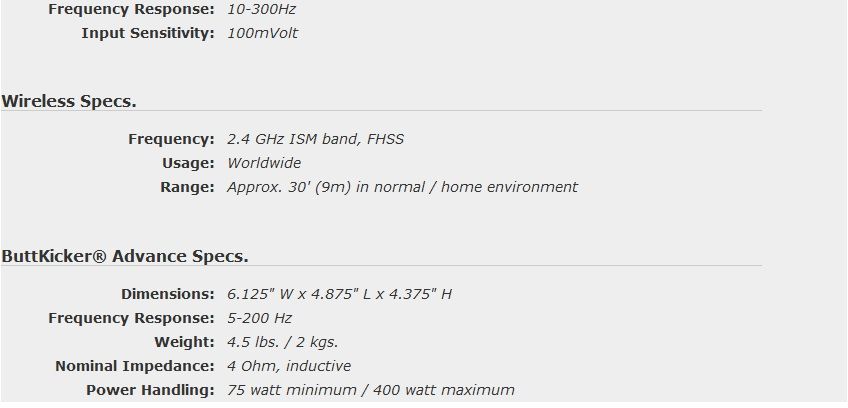 All in stock items are generally dispatched from our warehouses within a business day to get to you as quickly as possible.
Your order will be dispatched using a reliable and tracked courier service to ensure it gets to you as safely as possible. Once your order is dispatched you will receive an email updating you that your order has been dispatched along with an email to follow it's progress online.
*Please note with some Fanatec products depending on stock levels we do also ship direct from the Melbourne warehouse, where at times dispatching can sometimes be longer than the regular 1 business day.
*We offer free shipping to almost every location in Australia however VERY rarely there is some areas we cannot offer free shipping due to couriers extensive remote overcharges.